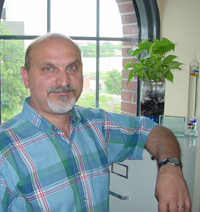 Research
Highlights: Sediment Transport, River Mechanics, Hydraulic Modeling, Environmental Fluid Mechanics, Experimental Methods, Non-Intrusive Measurement Techniques in Hydraulics and Fluid Mechanics
My main research interests are experimental hydraulics and fluid mechanics using non-intrusive measurement techniques. My past research work has revealed promising lines of inquiry into two broad areas of investigation, namely, experimental investigation of turbulent channel flows and development and implementation of non-intrusive flow diagnostics techniques.
My interest in the investigation of turbulent channel flows includes the basic flow process, i.e., the relationship between the governing flow parameters and turbulence structure as well as their countless number of practical implications. Among practical flows that are subject to my current and future research are those in the area of river engineering (sediment transport, hydraulic structures, ice-related processes, erosion) and environmental engineering (aeration, pollutant transport).
My research activity has been considerable enhanced by the use, development, and implementation of non-intrusive flow diagnostics measurement techniques. During my doctoral research, I developed and implemented a non-intrusive Laser Doppler Velocimeter (LDV)-based technique capable to separately measure particle and liquid velocities in sediment-laden flows, i.e., the Discriminator LDV (DLDV). Later on, I became part of an international team that developed Large-Scale Particle Image Velocimetry, a very useful tool for measurement of free-surface velocities in laboratory and natural scale open-channel flows. Currently, I am exploring the capabilities of Particle Tracking Velocimetry to investigate sediment-laden flows using a two-phase flow approach and those of the Acoustic-Doppler Current Profilers to investigate turbulence characteristics in field conditions.
Selected Current Research Projects:
Selected Past Research Projects:
PIV Studies to Determine Scale Effects in Small-Scale Models of Flow Fields at Dikes and Bendway Weirs; Sponsor: USACE-WES
Application of PIV and Numerical Modeling to Coastal Marshes; Sponsor: USWL
Hydraulic Model Study of Water-Intake Forebay, Kewaunee Nuclear Power Plant, Kewaunee, WI; Sponsor: WPS Co.